Escape to Jellystone Park™ Golden Valley for a romantic weekend getaway near Charlotte, NC! We have a variety of secluded cabin rentals that are perfect for honeymoons, anniversaries, or just for a weekend away. To get the most out of your romantic getaway, be sure to check out the variety of both on-site and off-site attractions near our Camp-Resort. Keep reading for the best itinerary for couples.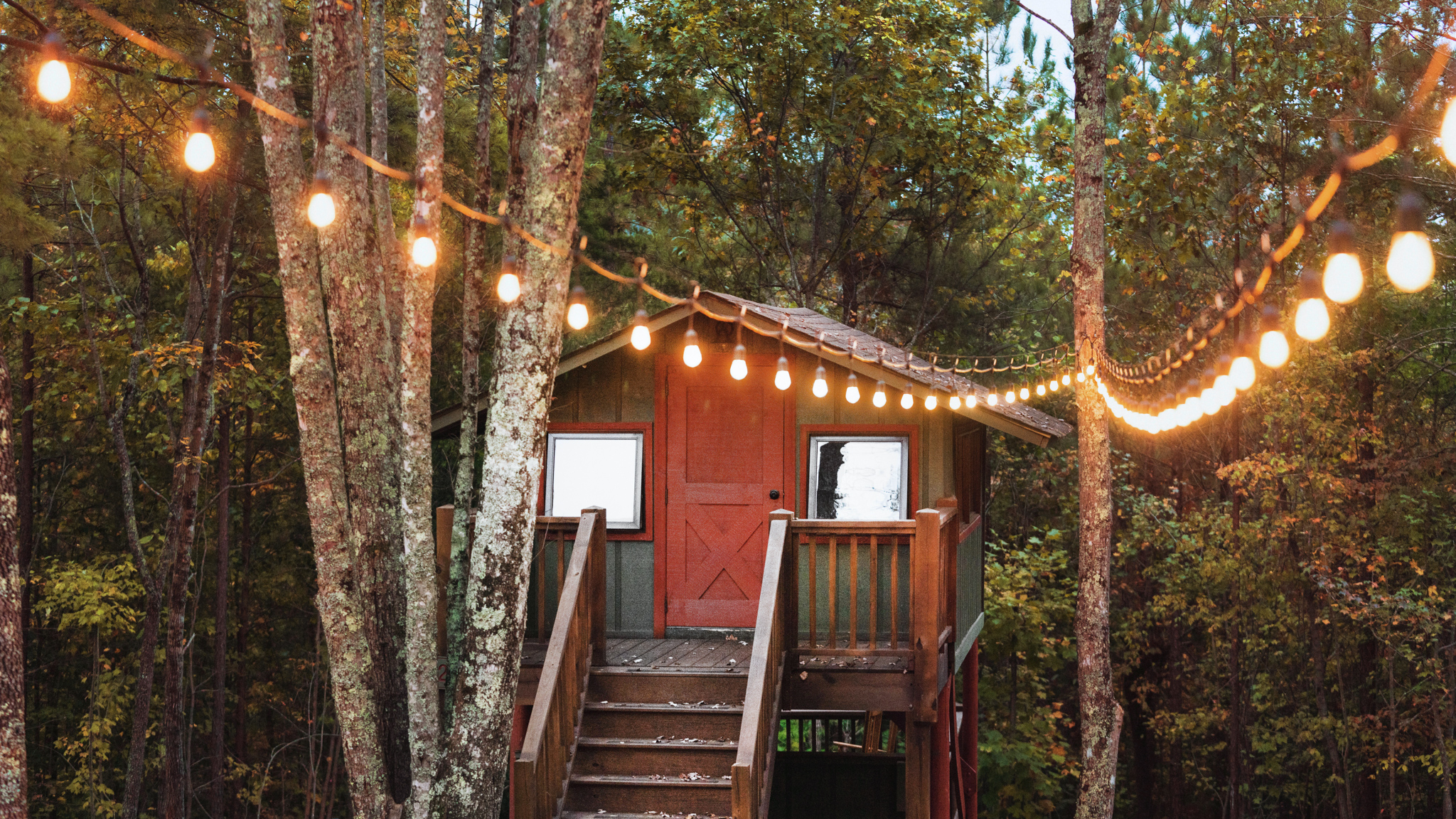 Rent a Luxury Cabin or Glamping Tent
Here at Jellystone Park™ Golden Valley, we have a variety of luxury cabins to choose from for your stay. Whether you're looking for the best honeymoon cabin or one that's more secluded in nature, we have a cabin rental perfect for you! We listed our top picks below:
Treetop Cabins
Our Treetop Cabins are perfect for a romantic weekend getway with a loved one! These cabins are equipped with a full bed, outdoor kitchenette, a private, detached bathroom, and more. Plus, you can choose from three different locations! Our Treetop Cabins give plenty of privacy due to the wooded location, our Lake View Treetop Cabins provide a relaxing water view, and our Mountain View Treetop Cabins give you a gorgeous view of the Blue Ridge Mountains. No matter which Treetop Cabin you choose, you can't go wrong!
Glamping Tents
Not a fan of tent camping? No problem. Our Glamping Tents are spacious, cute, and the perfect option for a romantic night in! Choose from our Treeline Glamping Tents or Lake View Glamping Tents and enjoy a queen bed, detached bathroom, and a large balcony. Linens are also included in this rental type, so there's no need to pack sheets, blankets, and pillows!
Laurel Cove Bungalow
Step inside a Laurel Cove Bungalow and you'll feel like you're in a log cabin! Enjoy a queen bed, kitchen, detached bathroom, and lots of outdoor space. Best romantic cabin rental ever!
Carolina Silver Bell Cabins
If you're looking for a little more space, a Carolina Silver Bell Cabin is the one for you. Equipped with a full bed, full bathroom, kitchen, and screened-in porch, you'll have the best romantic weekend getaway with this choice!
Enjoy On-Site Attractions
Whether you book a stay during the winter or summer, we have something for everyone at our Camp-Resort! If you book a summer stay, be sure to check out the wide variety of water attractions we have available. Lounge at the pool, rent a kayak, stand-up paddle board, or pedal boat for the lake, or dive into the Ol' Swimming Hole. If you're booking a winter stay, be sure to check out our mini golf course, fishing lake, hiking trails, and sports courts like pickleball, tennis, and volleyball. View all of our attractions here.
Dining for Two
At Jellystone Park™ Golden Valley, there's no need to leave our Camp-Resort to find a dinner or breakfast spot! Check out Scouts' Table & Coffee Bar - serving camp-inspired food that gives homage to the history of its location - a Girl Scout camp! This lodge provides views of the surrounding lake and mountains, making it the perfect romantic dinner destination. Choose from a variety of cocktails, sandwiches, salads, and more at Scouts' Table.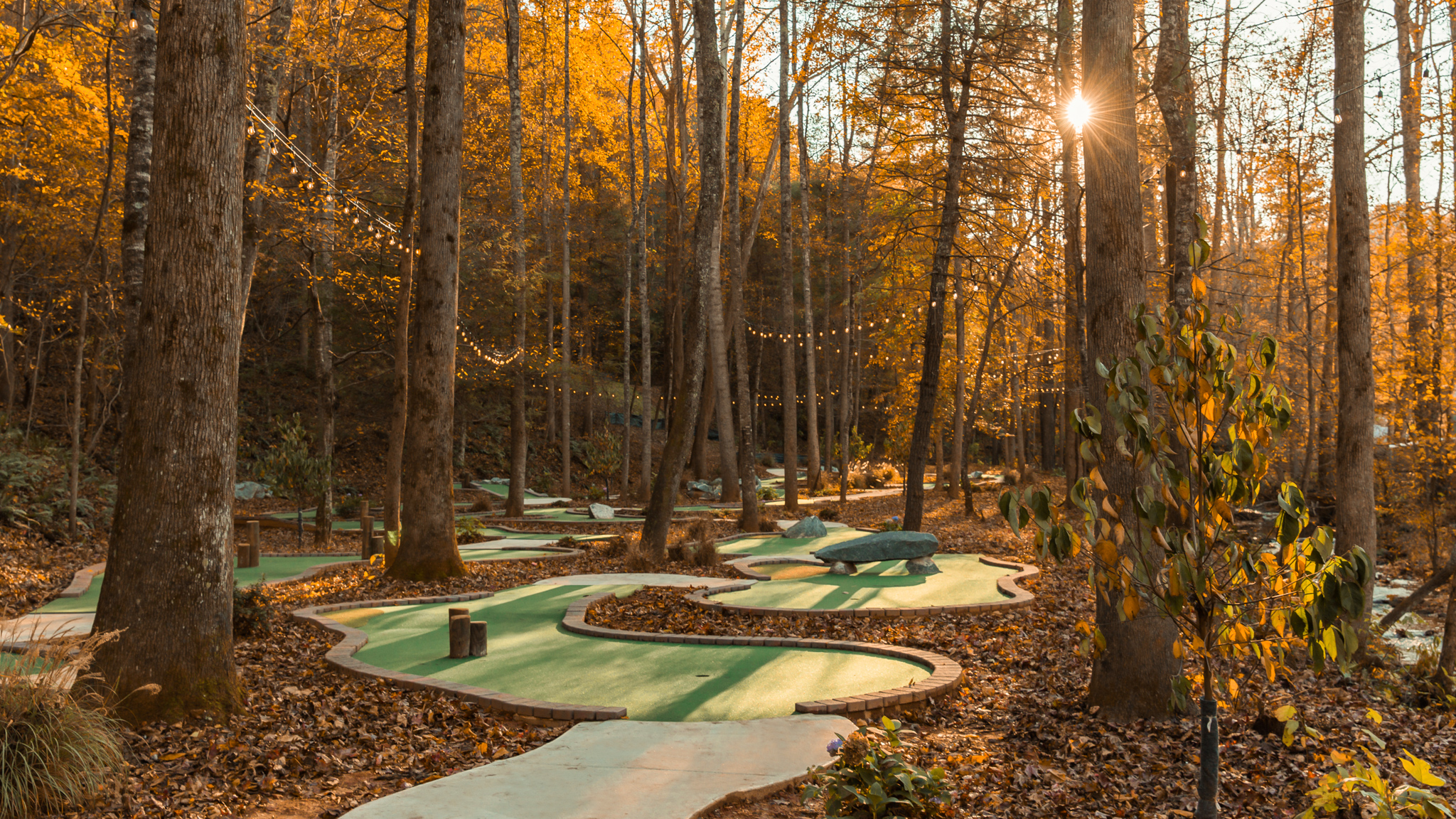 Escape to Nearby Attractions
Explore the surrounding area when staying at our Camp-Resort! Luckily, our Camp-Resort is only an hour away from Asheville, NC and an hour and a half away from Charlotte, NC. See below for some itinerary ideas to add to your romantic weekend!
Tour the Biltmore Estate
The Biltmore Estate is a large, private estate and tourist destination located near Asheville, NC. This estate is the largest privately owned house in the United States and includes art exhibitions, wine tastings, and more. Plus, who doesn't love a good mansion?
Indulge at Chocolate Fettish
Satisfy your sweet tooth when you stop to Chocolate Fettish in Asheville, NC! Enjoy handmade chocolates from caramels and frogs to chocolate truffles and seasonal treats! Plus, they ship nationwide so you can always remember your weekend away with a little treat shipped to your home!
Eat at McNinch House Restaurant
Known for its attention to detail for special occasions, the McNinch House Restaurant is the prime spot for a dinner night out. This Charlotte, NC restaurant offers 3 daily menu options to choose from, providing the best cullinary experience. With a 4.7 star average rating, this restaurant is sure to be one you'll remember!
Visit the Evening Muse
Continue your romantic weekend getaway near Charlotte, NC with a stop to The Evening Muse. This music venue brings the finest local, regional, and national talent all the way to Charlotte, NC! Enjoy a wide variety of music genres as well as comedy shows. Plus, this venue has a great selection of beer, wine, and spirits!
Your romantic weekend getaway in North Carolina is sure to be one for the books. Once you select your perfect cabin rental, be sure to check out the variety of attractions our Camp-Resort has available on-site, as well as visit the nearby cities like Asheville and Charlotte to make the most of your stay. If you're ready to book your romantic cabin getaway, you can give our team a call at (828) 417-0086 or book online.